Georges Hall Sustainable Garden Makeover
ecolicious designed a low maintenance sustainable garden with a Mediteranean feel, using recycled materials.
The garden consists of two ponds linked by a stream and cascade with aquaponic growbeds fruit trees and native plants. Client did not want to buy a lawnmower, so we covered the site in compacted crushed granite.
Yes - the garden looks bright and sparce... we will be planting more fruit trees, plants and herbs as the weather cools.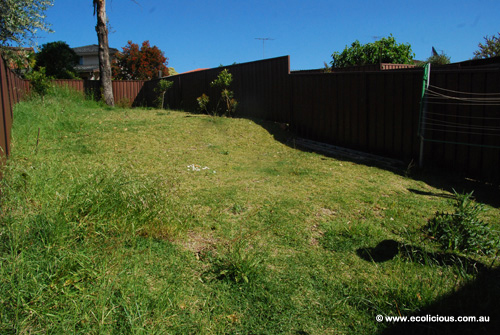 The blank canvas 18m x 6m yard hiding solid clay, with poor access.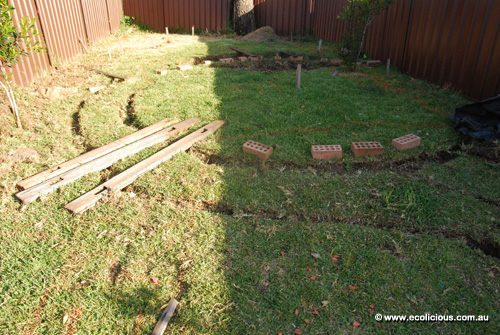 Designing the top pond, creek, and deck area.

Attempting to keep lower pond dry as rain delayed work yet another day.
clay became a slippery quagmire making the site dangerous.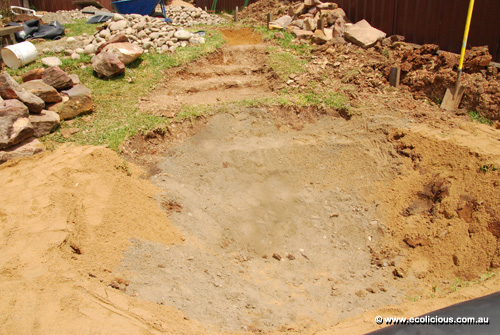 Shaping the lower pond and cascade,
we removed 8 cubic metres of solid clay by hand with limited access.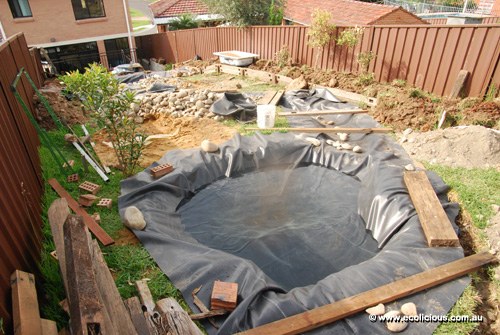 Lining top pond.

Testing creek flow, over 7tonne of river pebbles was carted in and washed by hand.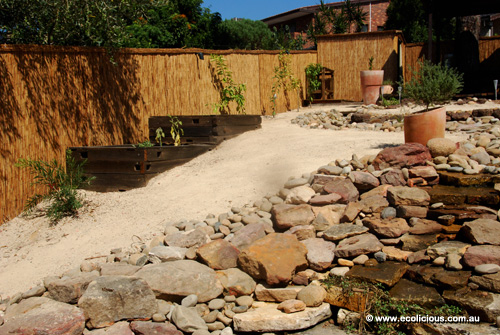 Constant flow media based aquaponic growbeds with auto siphons,
plumbing is buried under crushed granite,
8 tonne of crushed granite and approx 3tonne of aged bush rock were carted onto site.

Deck and shade are constructed from recycled timber.
Area is significantly cooler on 42deg days.

Over 80 recycled fence posts were used in the construction of the deck, bridges and growbeds.
-
Thanks to Ian, Mark, dad, Ken, Kylie, Chris and Ivan who helped in the construction of this project,
also the neighbours who allowed us to cart tonnes of rock and crushed granite through their yard.

Would you like to know more about aquaponics or our custom designed systems?
contact info@ecolicious.com.au
©2010 all images copyright ecolicious