Alexandria Park Community Garden
ecolicious and Milkwood Permaculture donated a pond, cascade and aquaponic system to
Alexandria Park Community Garden and Alexandria Park Community School, for the purposes
of furthuring systainable education.

- designed to demonstrate a simple media based, constant flow, auto-siphon aquaponics system.
- recycled materials were used where possible.
- pond will contain edible and native water plants, growbeds will grow various herbs and veges
- fish will remain low stocked and ornamental until system cycles and beneficial bacteria builds.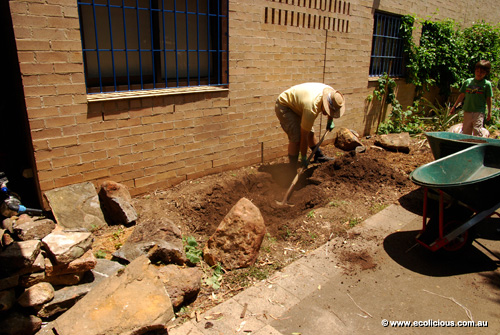 Guys from milkwood digging pond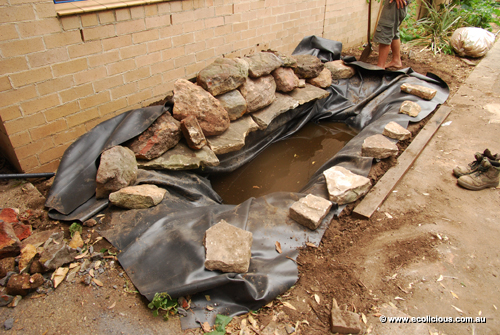 Installing pondliner, cascade acts a shelf for fish to hide, and helps aerate water
ecolicious recommends using high quality pond liner (EPDM 1.14mm thick)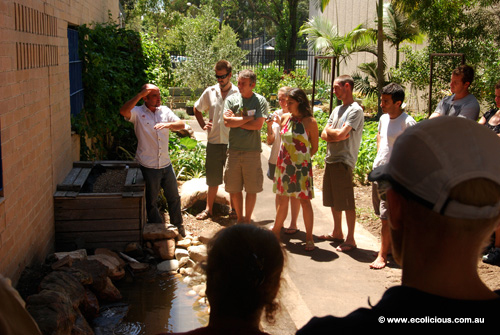 Milkwood Permaculture course - demonstrating how an auto-siphon regulates water flow
in a media based, constant flow flood and drain aquaponics system.
Thanks to my Dad, Adam and all the guys from Milkwood who helped in the construction

Would you like to know more about aquaponics or our custom designed systems?
contact info@ecolicious.com.au
©2010 all images copyright ecolicious


Alexandria Park Community Garden
Located in the grounds of Alexandria Park Community School, is one of the most active and productive community gardens in Sydney see website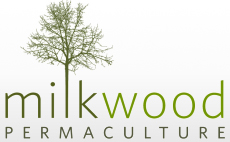 Milkwood Permaculture: are one of the leaders in permaculture and sustainable education and consultancy in Australia.
courses sell out weeks in advance
see milkwood.net
and milkwoodpermaculture.com.au
Testimonial:
"We love Charles' approach to aquaponics - his focus on natural and recycled materials, coupled with his commitment and support to the different systems he builds for folks across Sydney, are just what we need in this exciting field of closed-loop food production.
It's great to meet someone who wants to get things right, both in terms of ethics and aesthetics, at a scale appropriate for each situation."
Kirsten and Nick
- Milkwood Permaculture
Alexandria Park Community Garden
recent presentation comments
Charles managed to present something that could appear very daunting for the novice in a way that was encouraging and exciting. His presentation really opened up my thinking about the horizons of small-scale gardening and farming.
- Craig
I really enjoyed the presentation from Charles and like his energy and enthusiasm for aquaponics as a wonderful solution to food supplies in backyards.
- Pru+
I really enjoyed Charles' presentation and demonstration of the aquaponics system. He describes it in simple terms to make it seem achievable for anyone to do in their own backyard...
- Jo
I enjoyed the presentation with Charles. And can't wait to see our vegetables get up and running in the box there.  I keep telling people the story about the basil and barramundi, and then confess we actually only have goldfish in ours.
The aquaponics system is surprisingly simple and looks great.  It would be a great home project with kids.
- Ben
I thought the presentation was great. It was very informative with an accessible amount of detail. His style of presentation was engaging and he came across as enthusiastic and passionate.
I had heard about aquaponics previously but had always thought it was overly complex and only for people who were quite dedicated and, I guess, fanatic - the overly industrial/ scientific appearance of typical setups is off putting to me.
I came away from the presentation with a renewed interest - it is certainly something that I will be keen to try out at some stage in the future! The idea that the system can be run with goldfish was also really interesting, and has got my parents on board with the idea too...
- Emma