Customised aquaponics systems for every budget
ecolicious tailors the best aspects of permaculture, aquaponic, organic food production and sustainable living to suit your lifestyle and budget.
In no time at all, you could have an organic supply of fish, yabbies
or mussels, fresh herbs and vegetables.
You could also have a beautiful living sculpture – anything from a
balcony in a block of flats to an entire backyard sanctuary of water,
fish, animals and plants. There is really no limit to what can be
achieved.
If you dream it... we will design a solution for you! Contact us to
discuss your dream.
Aquaponics
Aquaponics combines the principles of aquaculture and
hydroponics, without the use of chemicals. Features include:
10% of the water usage of a conventional garden.

5 times the plant growth rate of a conventional garden.

Fingerling fish can be grown to plate size in under 18 months.
It is actually a very simple, and very natural system - plants and
fish growing symbiotically in a closed system. More on aquaponics
Our ponds, tanks and cascades are generally over 600mm deep and hold over 2000l, providing a natural setting for native fish like silver perch or ornamental fish.
Latest News
Jamie Dury - Edible Garden Design. Mosman Aquaponic System

ABC Gardening Australia Aquaponic feature at Inner Sydney Montessori School (14th July 2012). Big thanks to Justine, Costa, John, the staff, students and all those who helped. Download episode with link below
mpegmedia.abc.net.au/tv/gardeningaus/vodcast/gardeningaus_12_23_16.mp4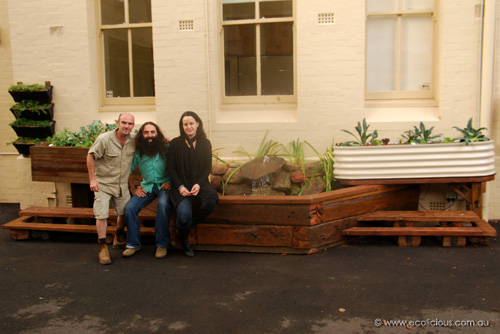 Pymble koi pond aquaponic retrofit - Adam Woodhams from Better Homes and Gardens created this "how to..." Youtube Clip (now close to 50,000 views)
http://www.youtube.com/watch?v=IvhnGeXiuq0&feature=colike


Better Homes and Gardens - ecolicious aquaponic segment 7Channel (21st October 2011) Better Homes and Gardens Magazine p.248
http://au.lifestyle.yahoo.com/better-homes-gardens/tv-and-video/video/watch/10654746/aquaponics/


ABC Gardening Expo - Landscape Design Challenge,
Sydney (19-21st Aug 2011)


ecolicious small space garden ($1500 budget), with railway sleeper fish pond, cascade, vertical vege patch, and recycled fencepost aquaponic growbed. Majority of materials recycled or supplied by ANL (Australian Landscape Supplies). one tonne of recycled timber was re-used to create a carbon neutral, water efficient garden.
http://www.abcgardeningexpo.com.au/Sydney2011/
this pond featured on the ABC 7:00pm news 20/08/20011
see Facebook for pics

Some recent projects
Here are some examples of our work. Click here for more
completed aquaponics systems.
Chatswood Koi Pond: floating deck granite dressed aquaponic growbeds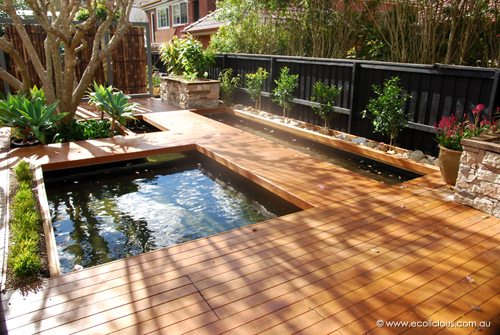 ecolicious collaborated with Mathew (owner), William (Architect) and David Ting to create this stunning 8000l (800mmdeep) pond with deck. Deck is on steel frame with a single pylon, a large oase pump, pressure filter, with UV light run the system. Growbeds filter nutrients and grow herbs and veges. thanks to Adam, John, Ken and all who helped create this project.
Mosman: Polished Railway Sleepers... sooo many


ecolicious Garden makover with 4 aquaponic growbeds, pond (2000l, 800mm) and cascade, soil garden beds constructed from over 30 hardwood railway sleepers sanded and polished. Project included stone retaining walls, stairs, seats and turf. Big thanks to Alex, Caroline and family (owners), Jord, Callum, dad, and all who helped.

Penny's Permablitz Pond and clawfoot bath aquaponic growbed


ecolicious created this pond and cascade with Clawfoot bath growbed for Penny Pyett, Permaculture Sydney Institute, with the help of a permablitz. Big thanks to Axel and all those who helped.
Lane Cove recycled deck, wedge-shaped growbeds, pond and cascade.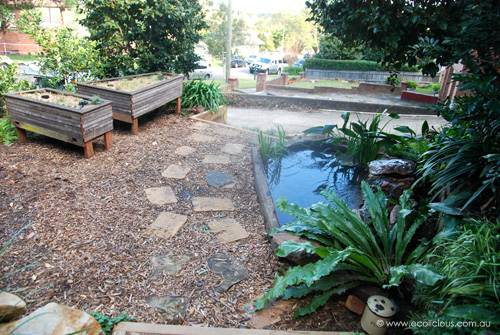 ecolicious designed this wedge shaped growbed to optimise the amount of sunlight, (and i was bored with rectangle GBs). Pond (2000l 800mm) and cascade are connected by pipes under the path, recycled hardwood decking was owners original deck. thanks to paul and those who helped on this project.
Gladesville railway sleeper growbed


Growbed with 2500l tank under deck. Deck was reinforced, thanks to Ken and those who helped with this project.

Manly Beach: Vertical Aquaponics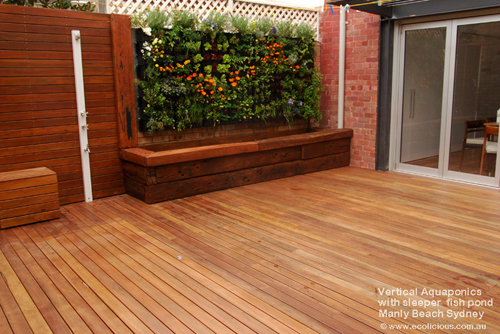 ecolicious designed the ultimate small space vertical vege patch aquaponic system, with sunken pond (1500l) constructed with railway sleepers. (featured on Better Homes and Gardens)
Elanora Heights: Urban oasis


ecolicious created a pond/cascade aquaponics system to
compliment a highly productive, aesthetically pleasing permaculture
garden on Sydneys Northern Beaches. Recycled materials were
used throughout. (featured on Better Homes and Gardens). Find out more
Greenwich - Designer aquaponics system


ecolicious designed a stylish, easy to maintain aquaponics system to suit a modern familys' busy lifestyle, on Sydneys' Harbour (featured on Better Homes and Gardens) Find out more
Kimbriki Eco House and Garden


ecolicious was challenged to create an ultra sustainable aquaponic system, recovering recycled materials from across the Kimbriki Resource Recovery Centre. Find out more

Contact us now
Download our brochure
More on Aquaponics
Completed projects
About us
MB 0412 090766
testimonial: milkwood
"We love Charles' approach to aquaponics… It's great to meet someone who wants to get things right, both in terms of ethics and aesthetics, at a scale appropriate for each situation."
Kirsten and Nick
Milkwood Permaculture


testimonial: kimbriki
Thank you so much for the wonderful aquaponic system you have constructed for us...
Your work has been impeccable and we now have a shining example of a food-growing system that thousands of people will be able to learn from and use in their own homes and gardens.
Peter Rutherford
Kimbriki Eco House & Garden